Date: 10th December - 11:15 - 14.15
Price: £30.00 / £25.00 WYR regulars
Siobhan has been with her teacher Sri O.P. Tiwariji at the Kaivalyadhama Research Institute since 2005.  She is currently one of the first students to be given the degree course in treating chronic disease through Yoga Therapy and specifically Pranayama in where she is currently studying in India.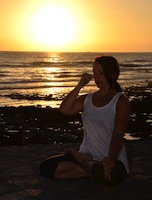 In this Pranayama workshop we will look at how to create a safe, easy and achievable daily practice for those who wish to continue on to a daily practice regime.  This can be 10 mins or 30 mins depending on what your needs and wants are.  The course will explain clearly why we do the practices.  How to do them correctly and more importantly the order they should be done in to achieve maximum results.  The workshop will give you an experience of some of the breathing practices and cleansing practices used for maintaining, cleansing and detoxifying the body. 
Some traditional Hatha Yoga Asana or postures will be given at the beginning of the workshop and some mantra or chanting at the beginning and end.  You should leave feeling GOOD, Happy and calm.  The results are instantly felt and it is a wonderful and underestimated limb of Yoga which is incredible enriching.
Join me and experience and blissful morning of what I hope is an enjoyable practice and learning session.  Open to all levels.  Please ensure you have not eaten 1 hour before this workshop for a light meal and 4 hours after a heavier meal in order to enjoy the full benefits.
Namaste
Siobhan