Luxury Yoga Retreat, 2nd - 4th March 2018 
Every Year The Wee Yoga Room hosts a luxury retreat in the central highlands.
Price and Location and booking
Location: Stronachlachar, just north of Aberfoyle
Price: £250.00
Sign up: Click here to book
Schedule
Friday 
16:00 -  27th October - guests arrive from 16:00 and are welcomed and settled in
18:00 - Vinyasa Flow (themed)
19:30 - Dinner is served!
The rest of the evening guests are invited to relax in their own time or sit around the log burning stove
Saturday
08:00 - Prannayama Practice
08:30 - Ashtanga Yoga
10:15 - Breakfast is served!
Free time, commonly guests go for a walk and explore the beautiful surrounds
13:30 - Lunch is served!
Free time
18:00 Vinyasa Flow (themed)
19:30 Dinner is served
Sunday
08:00 - Prannayama Practice
08:30 - Ashtanga Yoga
10:15 - Breakfast is served
Free time
12:00 Lunch is served
14:30 Vinyasa Flow (themed)
16:00 Guests start to depart.
Please also be aware, there will be a professional massage therapist on hand throughout the retreat, should you wish to indulge, yet further.
Previous Retreats
You can see some snaps form previous retreats below.  The retreat to designed to provide stress busting yoga with like minded friendly people and the incredibly beautiful setting makes this possible.
Layla Maclachlan
If you have ever been on a Wee Yoga Room retreat, you'll know one of the highlights is the healthy nourishing food... dutifully prepared and beautifully presented by Layla...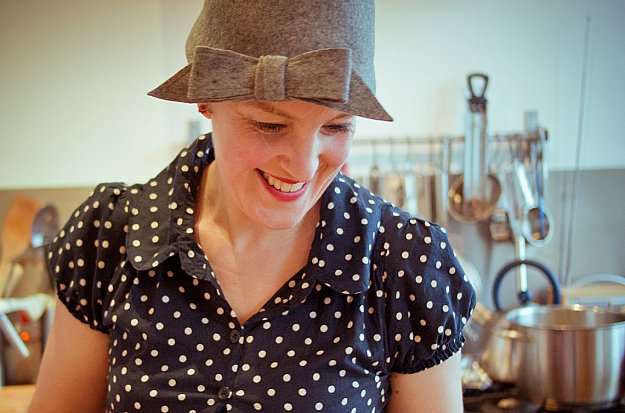 Some info on Layla

Textiles, cooking and gardening. My three passions. I work as a textile workshop leader in a centre for adults with learning disabilities and in my limited spare time attend to my little allotment, often joined by my Mum and Daughter.
And twice a year have the great privilege of providing nourishing, seasonal, vegetarian food to the participants of Rowena's increasingly popular yoga retreats. I believe that the care and attention that goes into the preparation and planning of a meal is just as important as the ingredients and I hope that this is evident in the meals that I serve to the guests.

One of the most asked for recipes on the retreat, is for the muesli I serve for  breakfast, so here it is. Give it a try, it really is delicious.

For one person:
1/2 cup of rolled oats
Small handful of sultanas
Apple juice
Half an apple
Mixed nuts (Toasted* and chopped)
Plain yogurt

The night before:
Place oats and sultanas in a breakfast bowl and pour over apple juice until dry ingredients are just covered.
Cover with a plate and leave overnight.
In the morning:
Grate apple and add to bowl with a generous spoonful of yogurt.
Top with toasted nuts and dig in.

* toast nuts by placing in a dry frying pan and cooking over a low heat until lightly browned. To prevent burning keep nuts moving in the pan.